At The Energy Desk, we understand that in some circumstances changing your energy supplier can be a pretty big deal, and there are many different factors that you will need to take into consideration before deciding to make the switch.
One thing that you especially need to be aware of when switching suppliers that you may not have too much knowledge about is your meter point administration number, as it is a crucial part of making sure your transition runs smoothly.
Therefore, in our latest blog post the TED team provide a detailed guide on MPAS, and provide you with information on how our energy service provider specialists can help you save money when switching suppliers.
So, what is Meter Point Administration Service?
MPAS is a service that's run by each of the UK's Distribution Network Operators, or DNO's for short. A DNO is responsible for distributing electricity in their region, and there are currently 14 licensed DNO's across the UK.
ECOES Database
Each DNO manages their own specific MPAS database, which is more commonly addressed as the Electricity Central Online Enquiry Service (ECOES). The ECOES database is important, as it stores the information as it will store energy consumption details for all addresses within its catchment area.
The ECOES database also hosts an abundance of additional information, however one piece of data that is particularly important for you when switching supplier is your Meter Point Administration Number (MPAN).
Your Meter Point Administration Number is a unique 21-digit code, that is vastly important when switching energy suppliers as it gives your new provider a quick and efficient way to identify your property.
In most cases, you won't need to retrieve your MPAN yourself as your supplier will be able to take the data from the ECOES database. However, in some cases, the information needed to identify your MPAN may be missing. Subsequently, your new provider will not be able to single out your property, and the switch process could be delayed as a result.
If this scenario unfolds, contact your DNO and they should be able to assist you with your query.
What is My Meter Point Administration Number?
An electricity meter number is also known as a MPAN (Meter Point Administration Number). They are used to uniquely identify your meter. This is essential for your energy supplier to ensure they are sending you the right bill. When switching electricity supplier, you don't normally need to provide your MPAN number, as this information is automatically retrieved from an ECOES database information provider.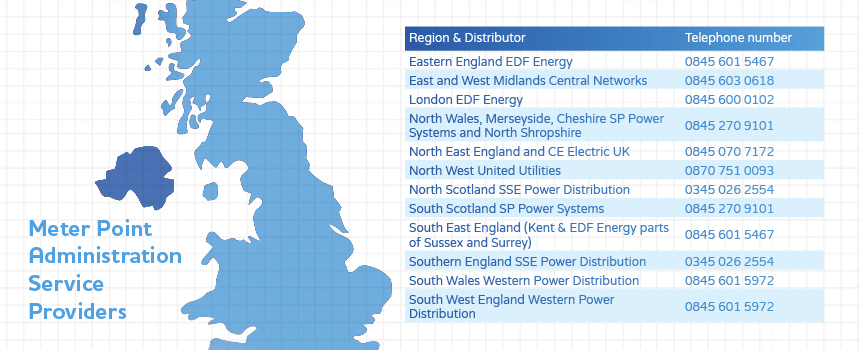 Where can I find my MPAN number?
The full MPAN number is 21 digits long which confirms the location, tariff and structure of the electricity supply you are on. This is also sometimes referred to as a supply number. The MPAN number will not be on the meter itself, instead you will find it on your electricity bills. The MPAN number should also not be mistaken for the customer reference number your electricity supplier has assigned you, which is also printed on your bill.
However, if you cannot find an electricity bill, you can also call your electricity supplier who will arrange to send you your number.
Where is the MPRN number on the meter?
Your Meter Point Reference Number will be displayed at the top of your electricity bill.
How do I find out who supplies my gas and electric?
You can find out who your supplier is from the details on your energy tariff on a recent energy bill. If you cannot find an energy bill, the easiest way to find out which energy provider supplies your gas is to give the Meter Number Helpline a ring on 0870 608 1524. They will provide you with your MPRN number which will allow you to find your gas supplier.
To find your electricity supplier, you will have to call your regional electricity distribution number. The number differs based on where you live.
Where is my gas meter?
Your electricity or gas meter will be located on the front or back of your house, or in some older properties it could be inside the house.
What is ECOES?
ECOES is a market information system, which supports the electricity customer transfer process. This can be accessed by a supplier, price comparison websites and any other party who can show they provide an advantage to the domestic electricity market.
Compare energy suppliers in your area today
Switching energy suppliers can potentially save you a hundreds of pounds a year, but with every supplier guaranteeing you the best possible deal, which one do you choose? That's where The Energy Desk can help you!
Ask TED is a dedicated service that compares over thirty of the leading energy suppliers to help you in finding the best quote for you. All we need is your estimate usage postcode, and we can help you begin your journey to making major savings!
Find out what gas or electric energy supplier is best for you by checking out Ask TED today.
 Switch energy provider with The Energy Desk
If you would like to learn more about how The Energy Desk can help you in changing providers, contact our dedicated team today.
To speak directly with one of our helpful energy advisors and potentially find out how much you could save, give us a call today on 03330 151 221 .
Or if you can't contact us over the phone right now, you can also get in touch by completing our online contact form.