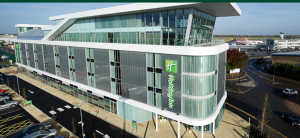 New Utility Connections for Holiday Inn Southend
During spring this year The Energy Desk was approached by Chardon Management Ltd who were operating the new four-star Holiday Inn Southend. We were introduced to Holiday Inn Southend at the later stages of the project and worked in partnership with Chardon Management to secure new connections for the hotel.
In order to overcome the challenges that setting up new connections can present, The Energy Desk was appointed to oversee the sourcing and installation of utility meters as well as reviewing electricity and gas contracts to get the best price going forwards.
This resulted in reducing delays and securing good sustainable energy prices. The Energy Desk also installed a web-based energy management tool at no extra cost, allowing Chardon to monitor, manage and minimise energy consumption.
Matt Stray, Director of Operational Projects for Chardon Management Ltd, commented:
The service provided has been swift, professional and has helped to keep Chardon insulated from bad advice on the project.
Find out more about new utility connections from The Energy Desk