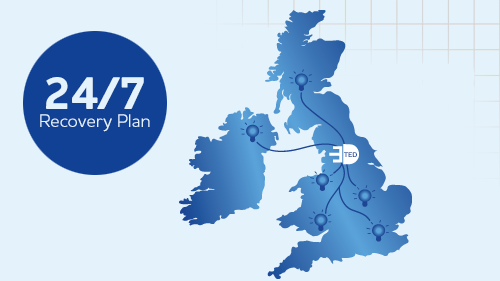 Specialists in power generation, we know how damaging an outage can be; that's why 24 hours a day, 365 days a year, we guarantee an unrivalled response to emergency requests for temporary power.
The Disaster Recovery Plan (delivered via our operating partner MEMS) focuses on restoring critical power to support your business functions.If you don't have a Disaster Recovery Plan yet, we can help you create your own plan for your business.
HAVE A PLAN FOR WHEN DISASTER HITS
Our disaster recovery specialists can review your environment and propose a plan to best suit your needs.
24/7 EMERGENCY TEAM UNRIVALLED RESPONSE TIME
We know a power outage could be disastrous and that is why we provide an unmatched response to emergency generator hire 24 hours a day 365 days a year.
PROJECT MANAGEMENT WE'LL PROVIDE THE SOLUTION
Help manage your entire generator rental solution, performing detailed site surveys, preparing and submitting in-depth risk assessments and method statements.
BESPOKE PLANS PLANNING AHEAD
Work with you to plan ahead for any situations that could impact your power supply so your business can avoid downtime and disruption.
WE'RE READY IN ADVANCE
We understand that a power outage could be financially disastrous to your business, that's why we offer an experienced team who will evaluate your site's electrical power generation needs and supply a tailored disaster recovery plan. With the disaster recovery plan complete and stored on file, we are in a position to supply and meet your precise generator rental needs in record time. Find out more about the benefits to your business when preparing a Disaster Recovery Plan with TED.
Call us on 0845 838 9830 or email danny.scott@theenergydesk.co.uk to discuss your Disaster Recovery plan.