You could use your farm waste to generate electricity, heat and bio fertiliser using anaerobic digestion with a waste to energy system. Opening up new avenues for income in addition to saving you money in the medium to long term, waste to energy systems are ideal for getting the most out of your waste and reducing your impact on the environment.
Imagine if you could turn your waste into valuable electricity and sell it back to the National Grid. Well you can and there are more and more farmers who are using anaerobic digestion in order to turn their farm waste into energy in the name of receiving attractive government subsidies while reducing their own costs at the same time.
But that's not all! Anaerobic digestion also creates a nutrient rich bio fertiliser which, according to studies, is more effective than chemical based fertilisers. This can to provide natural, rich nutrition for crops, resulting in healthier organic plants.
What is Anaerobic Digestion?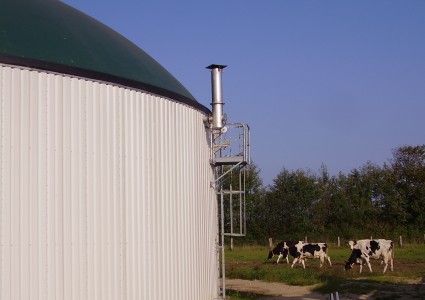 Anaerobic digestion involves the controlled breakdown of organic matter in a digester vessel with a restricted air supply in order to stimulate the anaerobic decomposition. This is different to composting which takes place in the presence of air.
Accelerated in the presence of bacteria, such a process produces a highly methane-rich biogas which can then be converted into heat and electricity through co-generation, otherwise known as combined heat and power – CHP.
DOUBLE THE AMOUNT OF SUBSIDIES!
Generating energy on your farm will attract not just one but two streams of government subsidy. The feed in tariff being one and the non-renewable heat incentive being the other. The support from both subsidies is guaranteed for a 20 year period.
Cost of an anaerobic digestion waste to energy plant
Although anaerobic digestion requires substantial up-front capital, here at TED we can provide fully funded and partially funded waste to energy plant solutions. Whether we own the plant or you do, we will ensure that everything is taken care of from sourcing the infrastructure, installation and maintenance and even grid connections which facilitate the sale of generated energy back into the grid which allows your business to be totally self-sustainable and generate revenue.
For more information on waste to energy management and anaerobic digestion systems contact one of our renewable energy specialists on 0845 838 9830 today and find out whether you qualify for funding!